Any Questions? - Mutation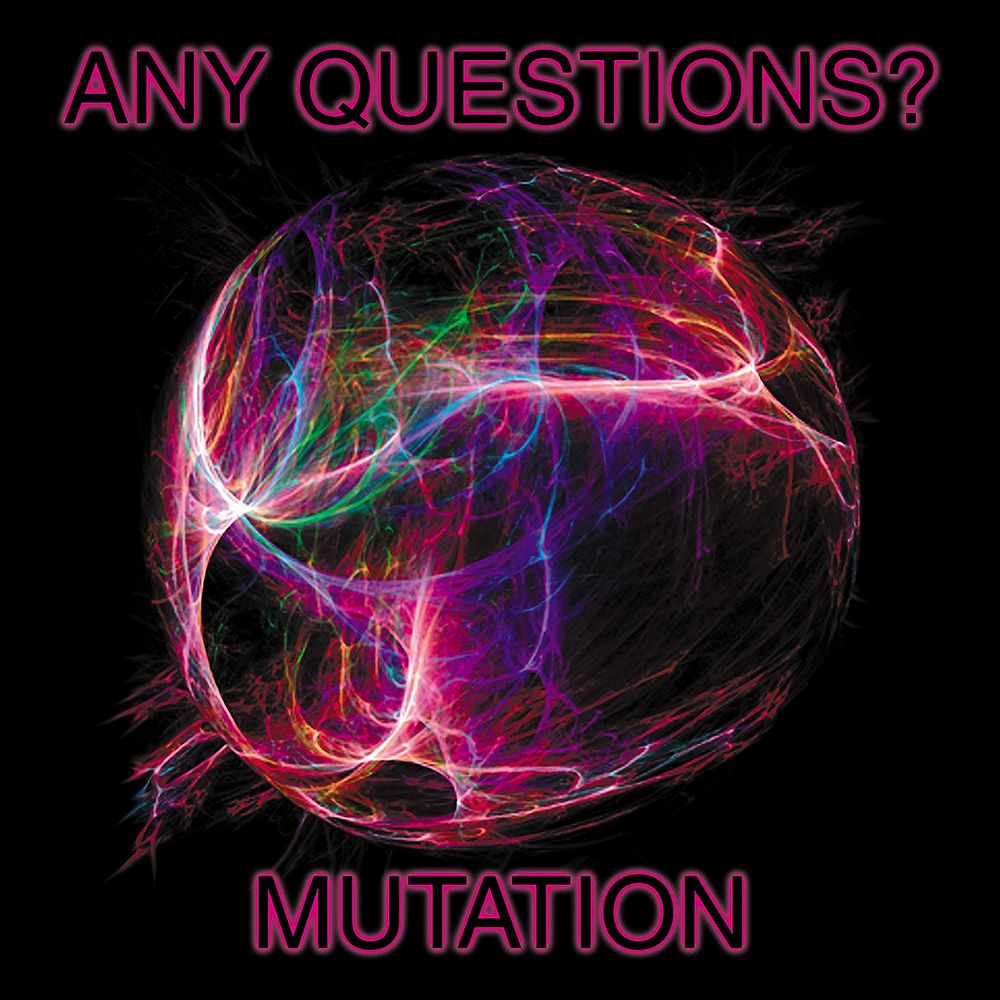 Any Questions?
Mutation
Tracklisting:
1. Mutation
2. Body Bags
3. Strange Days
4. Stasis Uninterrupted
5. Evolution
6. Siren Scream
7. Station 13
8. The Keep
Bonus Tracks
9. Extinction
10. Drone (Live)
Released:
2000
Format:
CD
Credits:
Ttam Troll - Electronics + Electronic Percussion + Voice
MC2P4 - Electronics + Electronic Percussion
LTJTHC - Electronic Percussion

This product was produced, composed, engineered, performed, and recorded by Any Questions? at Floating Fish Studios
Mastered by Eric Beebe at The Farm, Coopersburg PA
Photographs by Kelly Hoffman
CD Design by Ttam Troll with Kurt Smith of Vivid Imagery
Copyright ©2000 Floating Fish Music
The Story:
Mutation, it is what the supposedly human race fears the most. Mankind should not fear mutation. They should embrace it! Mutation and genetic changes are what account for all of man's survival thus far. Whether naturally occurring or manmade aberration, mutants and the processes that create them should be celebrated! Celebrated because they help to keep the human genome alive by minute or large alterations. It is this alteration that keeps the human race from becoming extinct from stagnation.
ANY QUESTIONS? latest project, MUTATION, takes you down this road of logic into the very realms of the plasma pool. ANY QUESTIONS? takes you into the depths of the plasma pool again with their latest project, MUTATION.
The opening track, Mutation, explores the worlds of mutation that we thrust upon others and ourselves in our bid, our governments bid, and even our whole world's bid to change ourselves into something else. Soon our brains will fragment with overload of computational knowledge much as our machines will before them. Mutation is not just confined to the flesh. The mind can be mutated to do many things it would not do in an earlier time as well as mutation of environment and all other factors, so, in more ways than one, mutation affects every bit of life and death.
The exploration of the mutation of the mind can be felt in the menace of a song like BODY BAGS. Is it worse to stalk and kill with no conscious or is it more worthy to create miles upon miles of 55-gallon drums of human insecticide? It does not matter if men and women create new strains of medicines to cure humankind if other men and women are creating new strains of toxins to kill another segment of the population.
The world and environ is being mutated by humankind. Eventually, the world as a conscious body will reject the infestation man and will rid itself completely of this pest. The world of sustenance will slowly turn to poison that will mislead the body nutritionally and will leave the human race weak enough for it to destroy itself.
The final days when the bright light turns gray will be called STRANGE DAYS. Mankind will break down into non-thinking zombie robots that will no longer have the capacity for forward movement. It is at this stage the slow crumbling destruction of the world will begin. There are those that will be prepared for the devastation, some in bunkers, some in silos, and some in hibernation.
STASIS UNINTERRUPTED. Imagine the world is dying and you are placed in a stasis field that holds your physical body, as well as all time in the immediate area of your body, at a zero state. In short, you become a non-event mass with a probability of zero. You leave the field in exactly the same state you entered it at any later time as long as the field is still powered.
You awake to whole different world.
Meanwhile, in another bunker far across the desolate wastes of the Chaghara Reactor 6T, some scientists are still trying to grow embryonic, genetically enhanced killing-creatures that will obey their every command. It is a scene repeated many times throughout the battlefields and blank zones of the mid-northern complex. Indeed it is a scene repeated throughout the history of man.
...It ends that mankind survives this horrible, wasteful Mutation, but just barely.
Reviews:
RumuRecords
If you are into dark, industrial music this is for you. Meeting Ttam Troll and MC2P4 a/k/a ANY QUESTIONS? you'd think they were just a couple of hard rockers. A taste of their fourth independent release, "Mutation", reveals a slightly more deranged musical acumen. Have no doubt they have come into their own with this label quality release. If they aren't aliens, their music is from another dimension. Not my typical taste in music, but for their genre ANY QUESTIONS? has been getting attention from industrial fans worldwide for nearly 10 years. They've been featured on numerous industrial compilation CD's and "Mutation" even garnered a #32 position recently on the CMJ Top 40 RPM charts thanks to their fans in college radio. Recorded, engineered, mixed, and produced at their techno-gear heaven (Floating Fish Studios) and mastered by Eric Beebe at The Farm, ANY QUESTIONS? have certainly moved to another level in their musical career.
- Scott Williams
Im Rhythmus Bleiben
Any Questions? is a bizarre mutation created in industrial space. With musician names like TTAM TROLL, MC2P4 & LTJTHC you know you're in for something different than your run of the mill projects. Be sure to read the personell listing on their site. Personally, I find their overall sound very similar to Electric Hellfire Club without the satanic silliness and a much more produced sound. However, this could be mainly because of the vocal style used as the music is very different.
Images of an industrial wasteland filled with corpses, mutations, cyberneticly engineered freaks, and chemical overdose comes to mind. Any Questions? makes very good use of samples to create this atmosphere combined with semi-gutteral vocals and electronics. There is a sense of foreboding in the overall tone.
- Thengore
Outburn
Mutation is forty-five minutes of industrial dirge that sounds like early Leaether Srip on Prozac. There's definitely something brewing on Mutation, but on occasion it feels like it's gone off the boil and skin is forming on the top. "Mutation," "Body Bags," "Evolution," and "Station 13" are about as good as it gets from Any Questions?. There's actually some energy and vitality bubbling through these four songs. The purely electronic music is formulaic, but competent with pounding percussion, swirling synths, and brooding distorted vocals. At times, Mutation delves into atmospheric soundscapes as in the sparse and sample laden "Extinction" and the spooky "Drone (Live)." Any Questions? even touches upon electro goth on "Strange Days" and "Siren Scream." Mutation is chock full of images of corpses, mutants, and the like projected by a paranoia that seems to revolve around cybernetics and genetic alterations. One too many articles about Dolly the cloned sheep, I suppose.
- Doc Benway
Mute!
Any Questions? unifies the vox of Placebo effect, the electronics of older FLA, and the bizarre samples of VAC into a lone entity. Mutation is an assortment of intricate old-school samples and synths that forces one helplessly into the late 80's early 90's when Skinny Puppy and FLA preserved the industrial monarchy. Any Questions? has seized all of the infamous memorable samples we all know and love together into this old-school industrial masterpiece.
- VD
Gaze Into A Gloom
ANY QUESTIONS? have started in 1989. Thumbing through the reviews on their old and new works, I have discovered that they were compared with the whole list of groups, including MINISTRY, SKINNY PUPPY, FRONT 242, LEAETHER STRIP, ELECTRIC HELLFIRE CLUB, FLA, etc.. Shuffle those groups and deal them in a new solitaire - and you'll receive ANY QUESTIONS? music.
All "Mutation" is made in a "100% electronics and nothing else" format. I also like another definition: "heavy music without guitars". Dancefloor to a certain degree, with convulsive multi-layer percussion, and tons of incrusted samples (I have easily recognized the one from "Alien-4" movie), classical Post- Industrial vocal, thoroughly processed arrangements - those were the weapons which "Mutation" used in their attack on CMJ's chart, and they hit it's "top forty" at once. Now I could imagine the quantity of reviews on various groups, where ANY QUESTIONS? are became a standard for comparison themselves. My recommendations!!!
- Unknown
Side-Line
That's a hard one! I remember this American duo from years ago, when Side Line was still released in photo-copies! Time went on for us and for Any Questions? They released some auto-productions, set up their own label to release this "Mutation" -cd which is distributed by Metropolis. The opening track "Mutation" is directly a shot on target! It sounds like industrial-EBM and the American answer to Hocico! I personally prefer Hocico for being more traditional EBM-minded, but I couldn't expect a better start here! Despite of it all, this song was far away the best component of the album! Any Questions? multiply the analogue sound manipulations which on the long run give the impression that they're loosing themselves in too chaotic and loud structures. I was desparately waiting for another track in the vain of "Mutation", but I finally get a cyber-punk cut entitled "Station 13". My expectations were unfortunately ruined during the last cuts which are into pure electro-ambient. Let's remain positive and recognize that these last attempts are far much better than the poorly inspired heavy electro cuts, but that's definitely not enough to speak about a major success!
- Deranged Psyche